Walmart's online sales are growing and Americans are still flooding into its stores.
Digital sales jumped 33% last quarter, Walmart said Thursday. Wall Street was glued to that number because CEO Doug McMillon is scrambling to refit the world's largest brick-and-mortar retailer for the digital era.
Walmart expects digital sales to increase 40% for the entire year. The company is desperately trying to build its base from low and middle-income householders to younger, wealthier Americans online captivated by Amazon and shift perceptions of the brand.
Related: How Whole Foods will help Amazon rule the world
"We are changing from within to be faster and more digital, while shaping our portfolio of businesses for the future," McMillon said in a news release Thursday.
Walmart has gobbled up niche retailers such as ModCloth, Bonobos, Moosejaw and Hayneedle to expand its digital clout over the past two years. On Wednesday, it announced a partnership with fashion chain Lord & Taylor for a landing page on the website.
But Walmart's biggest move in the United States, a $3 billion deal Jet.com, has disappointed investors. Walmart has said that it's pulling back marketing on Jet except in urban areas while deploying its newly-redesigned Walmart.com in mid-America.
"Walmart is just a really well-known brand for value throughout the country," McMillon said in February. "When you get into Oklahoma and Texas, in the middle of the country, it just makes a lot of sense to invest in that brand."
The company's success online has been mixed so far. Last quarter, Walmart's online growth slowed to 23% after strong 50% and 60% gains the previous two quarters.
The company miscalculated how much inventory it would need to keep pace with demand during the holiday season, leading to missed sales opportunities. Those growing pains sparked a selloff on Wall Street, sending Walmart's stock to its worst day in 30 years. The stock is down 13% this year.
Related: Walmart figured out its Amazon strategy. So why's the stock down 13%?
Yet Wall Street was encouraged by the solid report this quarter: Walmart's stock fell 1%.
"Today's results are proof not only that Walmart is making gains in its day-to-day business, but that it is now a company firmly in the midst of a dramatic transition," Neil Saunders, managing director of GlobalData Retail, said in an email.
Sales at Walmart's 4,760 US stores that have been open for at least a year rose 2.1% and foot traffic was up 0.8%. Both measures signal that shoppers continue to head to Walmart's stores, which the company says are within 10 miles of 90% of Americans. The company has been remodeling stores, raising employee wages, and tightening demands on suppliers to squeeze out brick-and-mortar sales.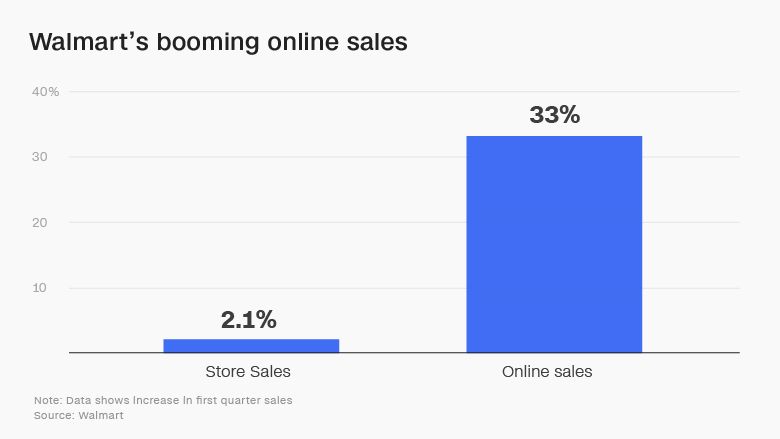 Walmart's expansion of home grocery delivery and curbside pickup contributed to same-store sales gains, Walmart said. It has raced to offer online grocery options in 1,400 locations.
Online grocery has failed to take off in the United States, but analysts expect it to grow in the future.
Walmart's close proximity to most Americans and its vast real estate could give it an advantage in the race, argues Cowen analyst Oliver Chen. Walmart can offer customers a combination of curbside pick-ups and buy online, pick-up in store — so-called "click and collect."
Walmart's profit in the United States fell 3.1% from a year ago, weighed down by its digital investments. Shopping online eats into Walmart's profit because it has to pay for shipping costs.
The company has also been lowering prices at stores to stay ahead of competitors, contributing to the decline. Higher oil and shipping costs dented the company's bottom line, too.
CNNMoney (New York) First published May 17, 2018: 8:15 AM ET